---
Does your museum or gallery need a beautiful website that handles your events, collection and CRM and ticketing system?
Are you an entrepreneur with a world-changing idea looking for developers smart enough to help develop your idea and make it real?
Are you a business who needs your digital presence to look its best and connect to three (five? eleven?) complex legacy systems that make your business work?
Or perhaps you're just looking for Australia's most experienced Django developers?
Welcome. You've found what you're looking for.
Get in touch
About us
The Interaction Consortium is a software studio specialising in beautiful digital design and technically fearless system architecture and integrations.
We build and maintain outstanding websites and digital platforms, using technology that grows and evolves as you do.
Oh, and we built a little something called GLAMkit, a leading open-source CMS for the Cultural Sector loved by museums worldwide.
Let's work together.
Dr. Tim Mansfield CEO

Read bio

Tim has been the CEO at the IC since August 2016. In his previous roles as a strategist, culture consultant and futures researcher, Tim specialised in the cultural sector. He has previously held senior research roles at Queensland University of Technology in the Smart Services CRC, at NICTA and spent ten years working in collaboration and social media research at the Enterprise Distributed Systems CRC.

Dr. Alastair Weakley Head of Services

Read bio

With 11 years professional experience in product development Alastair returned to University to study for a Masters' degree in Information Technology. Since then, as well as completing a PhD in Computing Science ("Internet-based Support for Creative Collaboration", 2007) at Creativity & Cognition Studios, University of Technology, Sydney, he has been involved in numerous collaborations with artists resulting in exhibited interactive artworks. Alastair has published in the areas of HCI, Information Systems, Information Visualisation and Presence. A founding director of the Interaction Consortium, Alastair is now Head of Finance and Services. He lives in Sydney with his wife and two children.

Tai Lee Technical Lead

Read bio

Developing end-to-end solutions for the web since 1999, Tai has 15 years of commercial experience in web agencies servicing a variety of client industries, and utilizing a range of skills including systems architecture, application design, and database administration. He is a jack of all trades (and master of a few), open source contributor and problem solver, who is at his best when knee deep in code and learning something new.

James Murty Senior Engineer

Read bio

James has more than 16 years' experience building Internet systems, from enterprise applications with high-volume transactional processing, to complex customized web sites, to research projects for the CSIRO, to supporting utilities and documentation for emerging cloud technologies. He enjoys getting things done and delivering high-quality code, especially while solving challenging problems with talented colleagues for inspirational institutions.

Mark Finger Developer

Read bio

Mark hails from the Blue Mountains, west of Sydney, and since becoming a city dweller, has been both a bicycle messenger and an English teacher. After studying computer science at the universities of Sydney and Western Sydney, Mark has worked for organisations which include the Federal Court of Australia and The Global Mail. In his own words, Mark likes "learning about things requiring vendor prefixes and transcompilers". Unsurprisingly, he is normally left to his own devices in IC headquarters.

Aram Dulyan Developer

Read bio

Aram Dulyan is a computer scientist and programmer with a passion for Python, Django, and the free software movement. He was the Interaction Consortium's first employee and now holds the position of senior software engineer, making sure that the websites we build run smoothly and efficiently under the hood. He enjoys fixing bugs, contributing to open-source projects, and long walks in the bush.

François Constant Developer

Read bio

An engineer passionate about developing applications from site mockups to user training who loves designing and building up creative and elegant solutions. Has graduated in Computer Science and Project Management and worked jointly with customers, project managers, designers and developers alike in Australia and Europe.

Joaquín Puñales Developer

Read bio

Software Engineer & Certified Application Developer for Cloud Platforms with experience in various technology areas including Software development, Requirements Engineering, Technical Advisory and Researching. Joaquín has worked in numerous national and international companies across many industries. He can usually be found snorkeling somewhere beautiful.

Jean Abijay Executive Assistant

Read bio

Jean has over 7 years of administrative experience with project management and coordination. She ensures the smooth operation of the agency with knowledge of office management, efficient handling of enquiries, and finance-related matters. Jean enjoys content research, traveling and is a full-time mum/dad/amusement director/monster slayer to her daughter.

Fabian McDonald Design Lead

Read bio

Fabian is a multi-disciplinary graphic designer who has worked in various fields such as print, branding, editorial design and web design. He's someone who likes to get his hands dirty at all stages of the design process, from early research and conceptualization right through to the final execution. One day he hopes to be able to play the clarinet solo glissando from George Gershwin's Rhapsody in Blue like a pro… though he admits this may never happen.
Our services
Strategy & Planning
User research
Content audits & strategy
Information Architecture
Interaction Design
UX design & prototyping
UI design patterns & style guides
User testing
Website Development
Database design & data visualisation
Backend Django development
Frontend development
Systems integration & API design
Website maintenance
Code quality optimisation
Major infrastructure upgrades
Security updates, bug fixes, error monitoring
Performance monitoring
Hosting
Content distribution networks
24h monitoring & backups
Get in touch
Recent Projects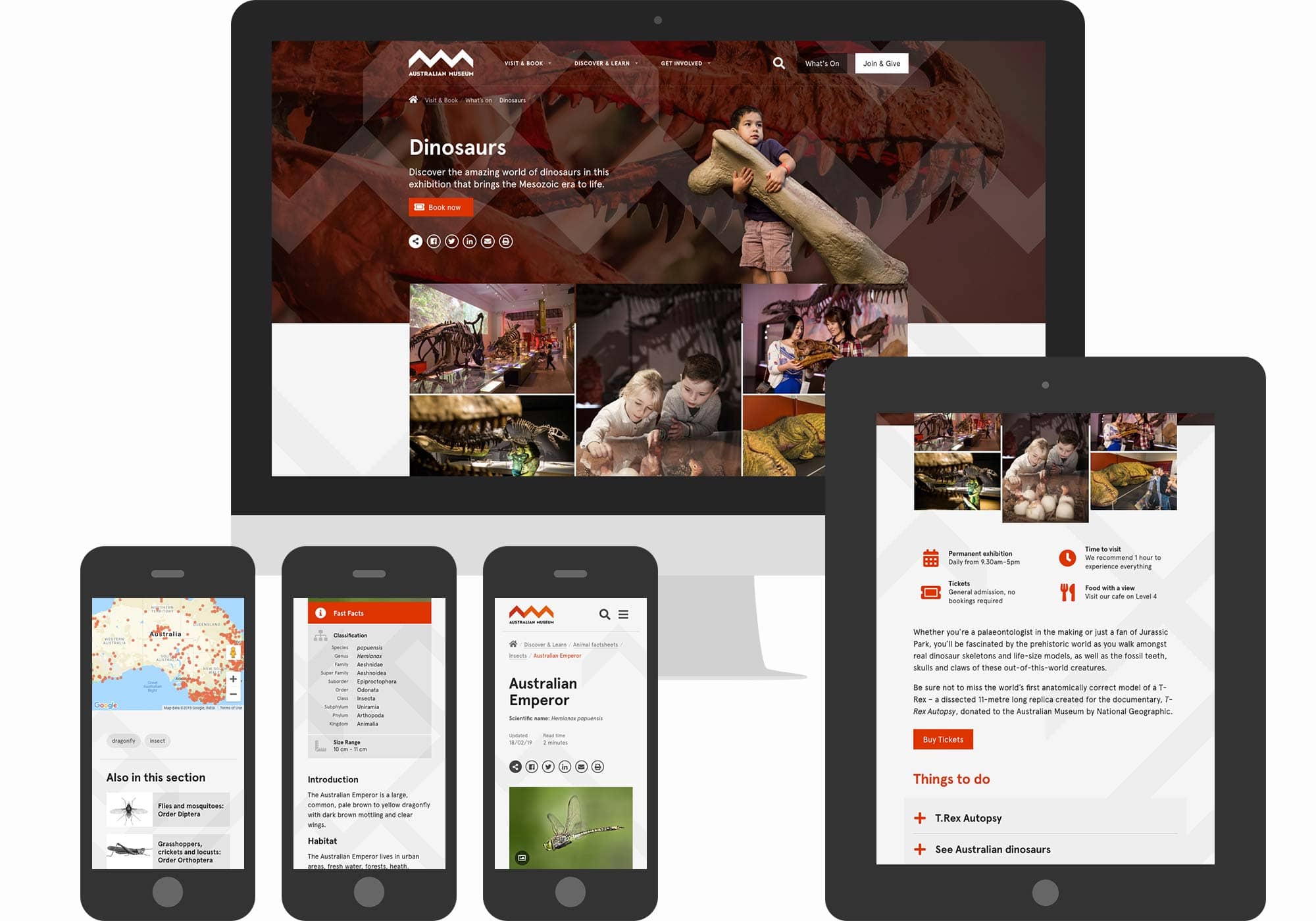 Australian Museum
Content migration
Backend CMS development
Third-party systems integrations
Website design and frontend build
For over 190 years the Australian Museum has been at the forefront of scientific research, collection and education. So no surprises that its website is a treasure trove of information. For their new rebuild, the IC tackled a complex data-migration, several hairy systems integrations, and a digital brand extension and site design. The result: a stunning new digital experience and winner of Best Institution Website at the 2019 MAPDA Awards.
Visit Website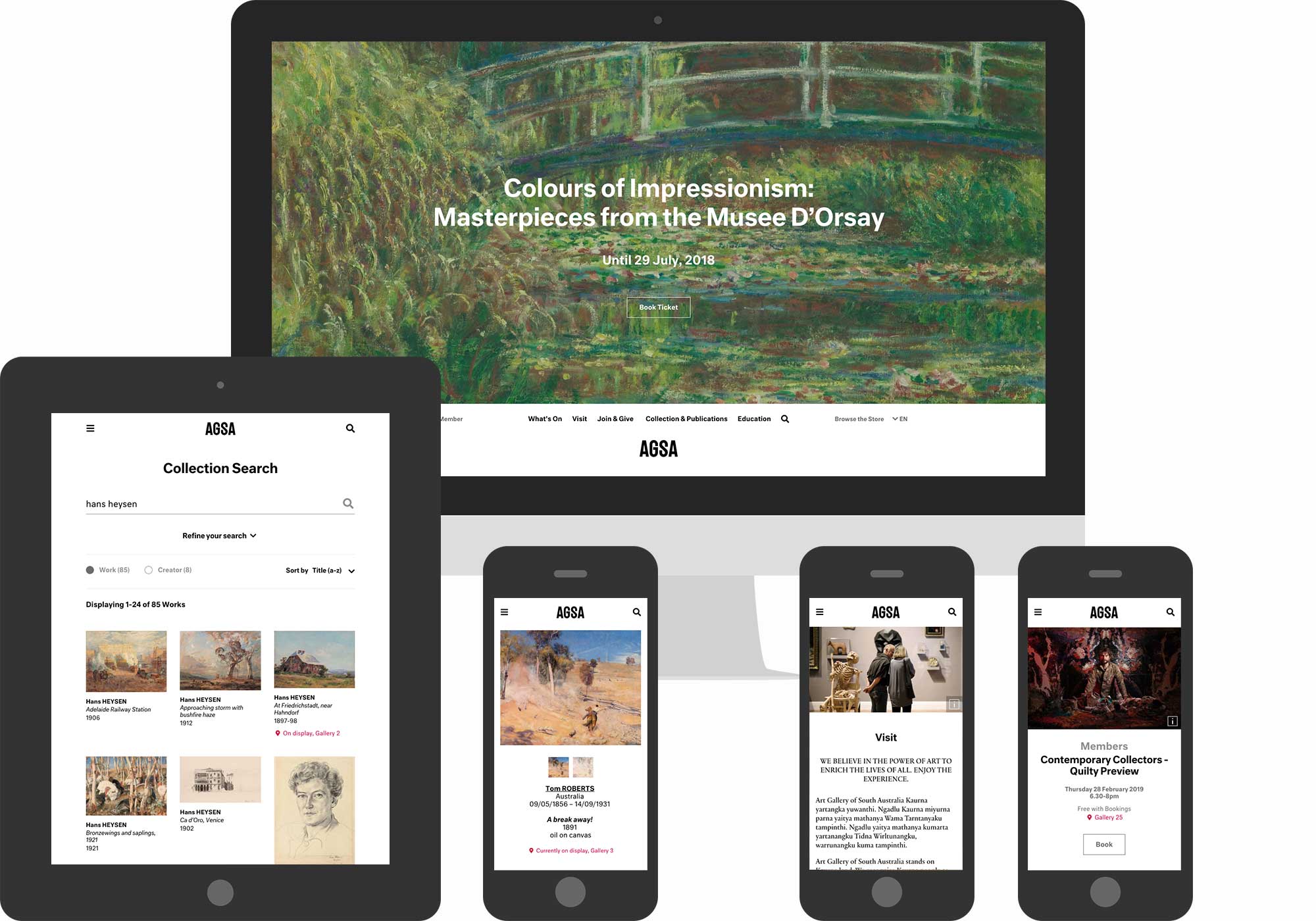 Art Gallery of South Australia
Information Architecture and UX Design
Backend CMS development
Frontend build/integration
Website design by Fabio Ongarato Design
One of Australia's major art institutions, the Art Gallery of South Australia recently completed a digital transformation, breathing new life into their brand and website. The project saw further evolution of GLAMkit, particularly in terms of image editing and integration with EMu, one of the world's leading collection management systems.
Visit Website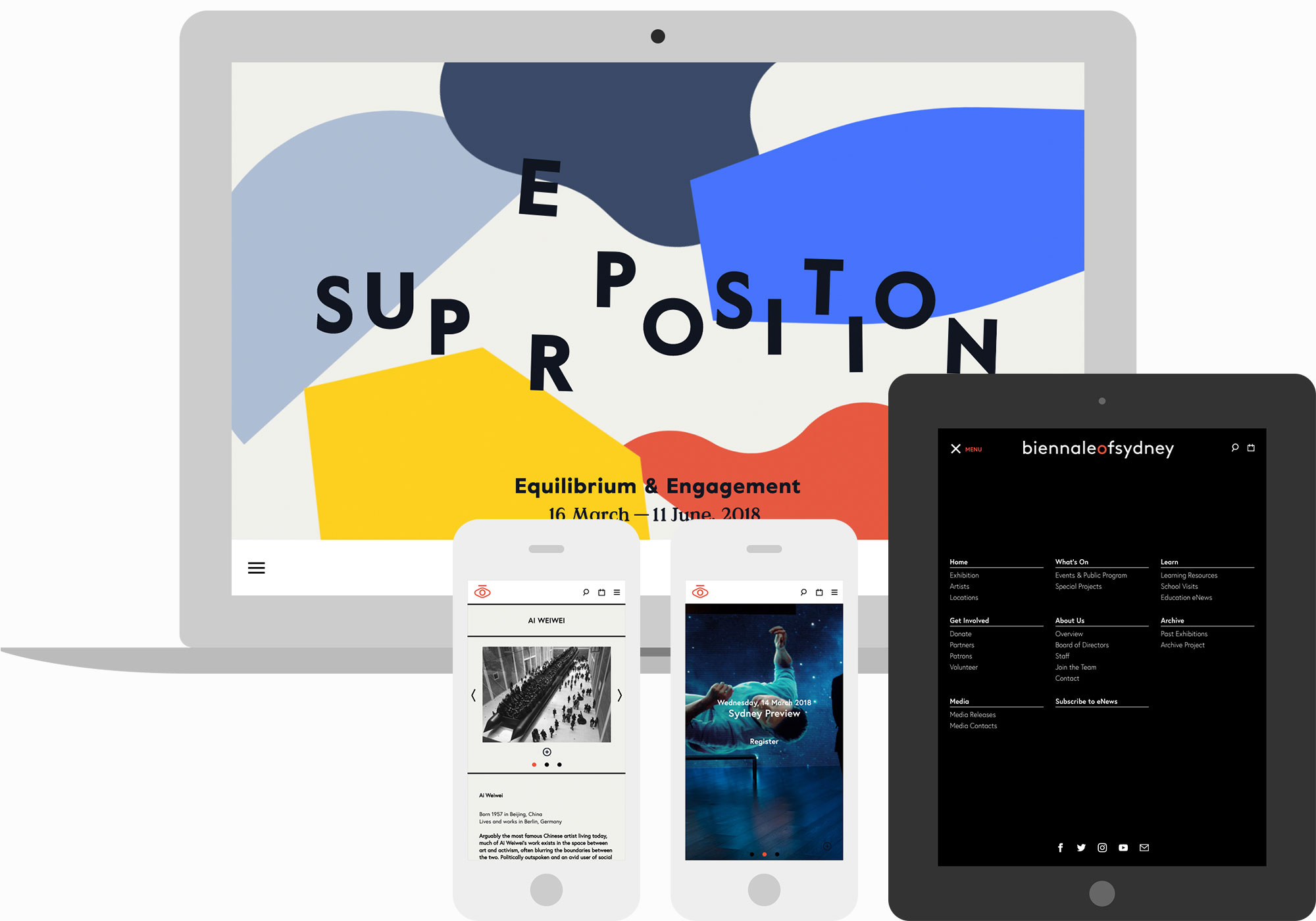 Biennale of Sydney
Backend CMS development
Frontend integration
Website design by Civilization
The Biennale of Sydney is one of Australia's premier cultural events. With a new CEO at the helm, the organization was looking for a powerful new CMS to take them into the 21st centrury. A creative collaboration between The IC and renowned, Seattle-based, design practice Civilization resulted in a stunning website and a new version of Glamkit!
Visit Website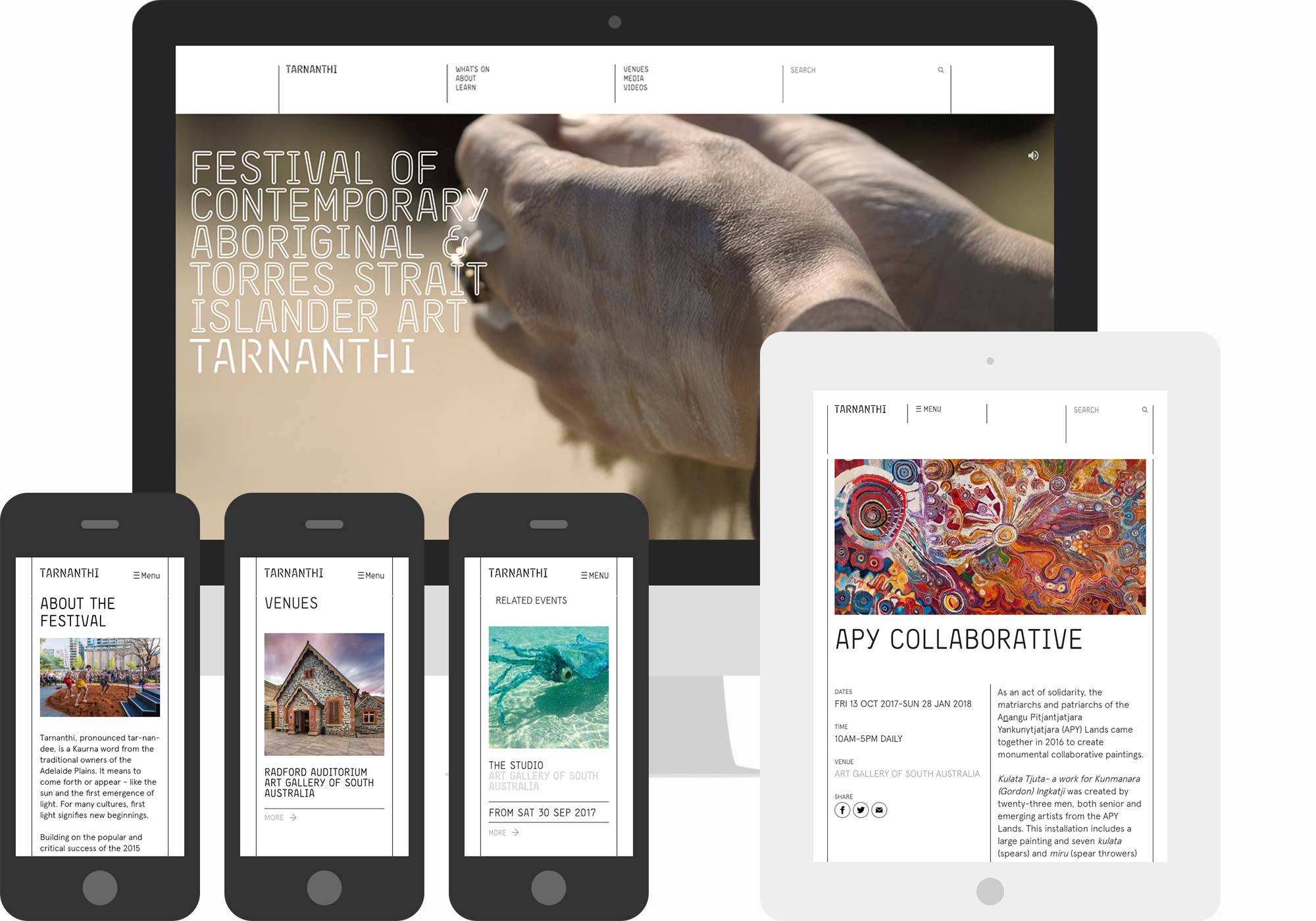 TARNANTHI
Backend CMS development
Frontend integration
Website design by Studio Band
The Art Gallery of South Australia, in partnership with the Kaurna people of the Adelaide Plains, produces Australia's largest festival of Aboriginal and Torres Strait Islander art. With events spread out over a wide range of dates and venues, GLAMkit was the perfect choice for this elegant website.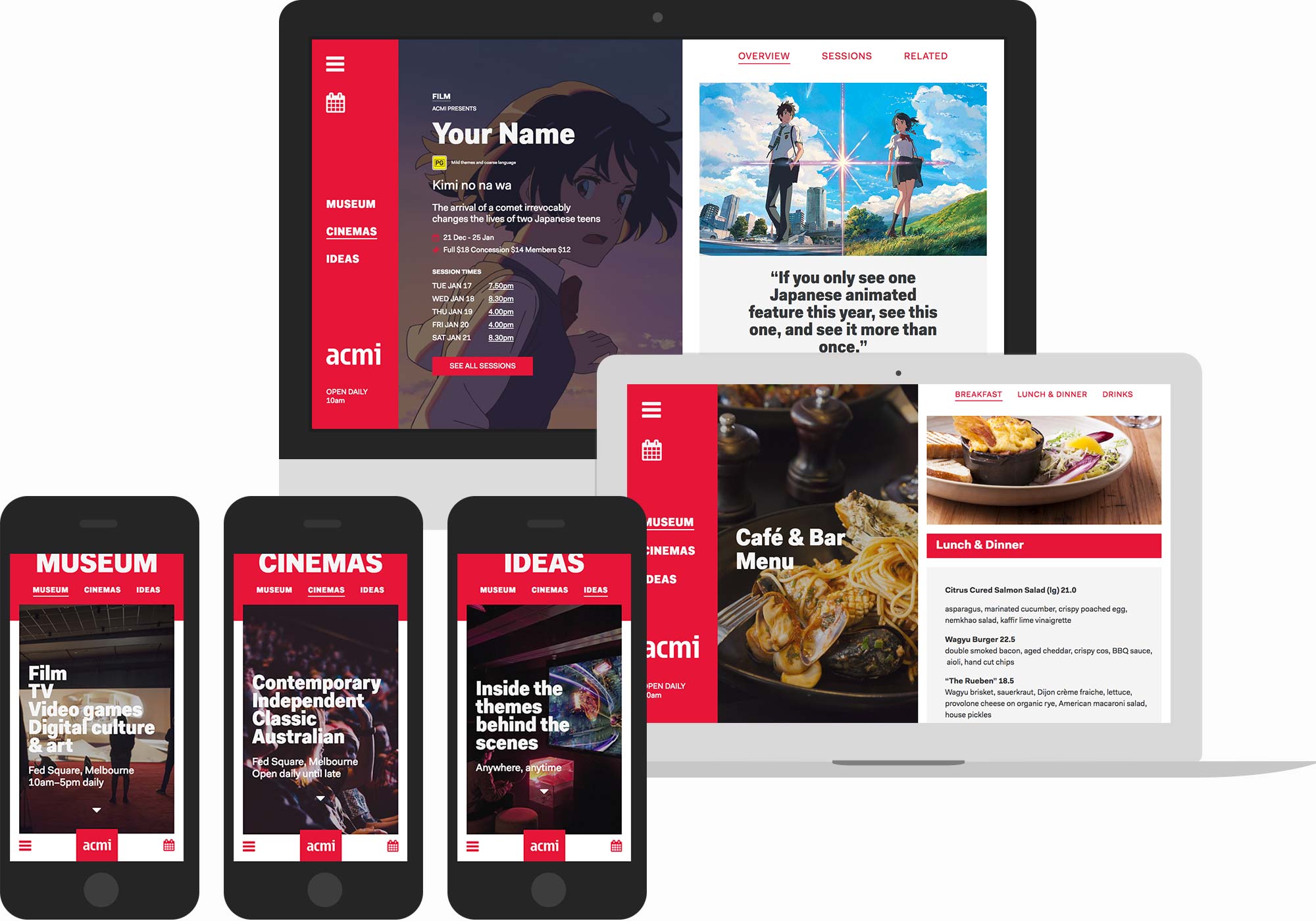 Australian Centre for the Moving Image
Backend CMS development
Frontend build
Website design by Boccalatte
The Australian Centre of the Moving Image in Melbourne wanted a new website to represent their new brand: bold, playful and smart. The whole process – from design to launch in four months – used a transparent, agile approach between ACMI, us and design partners, Boccalatte.
Visit Website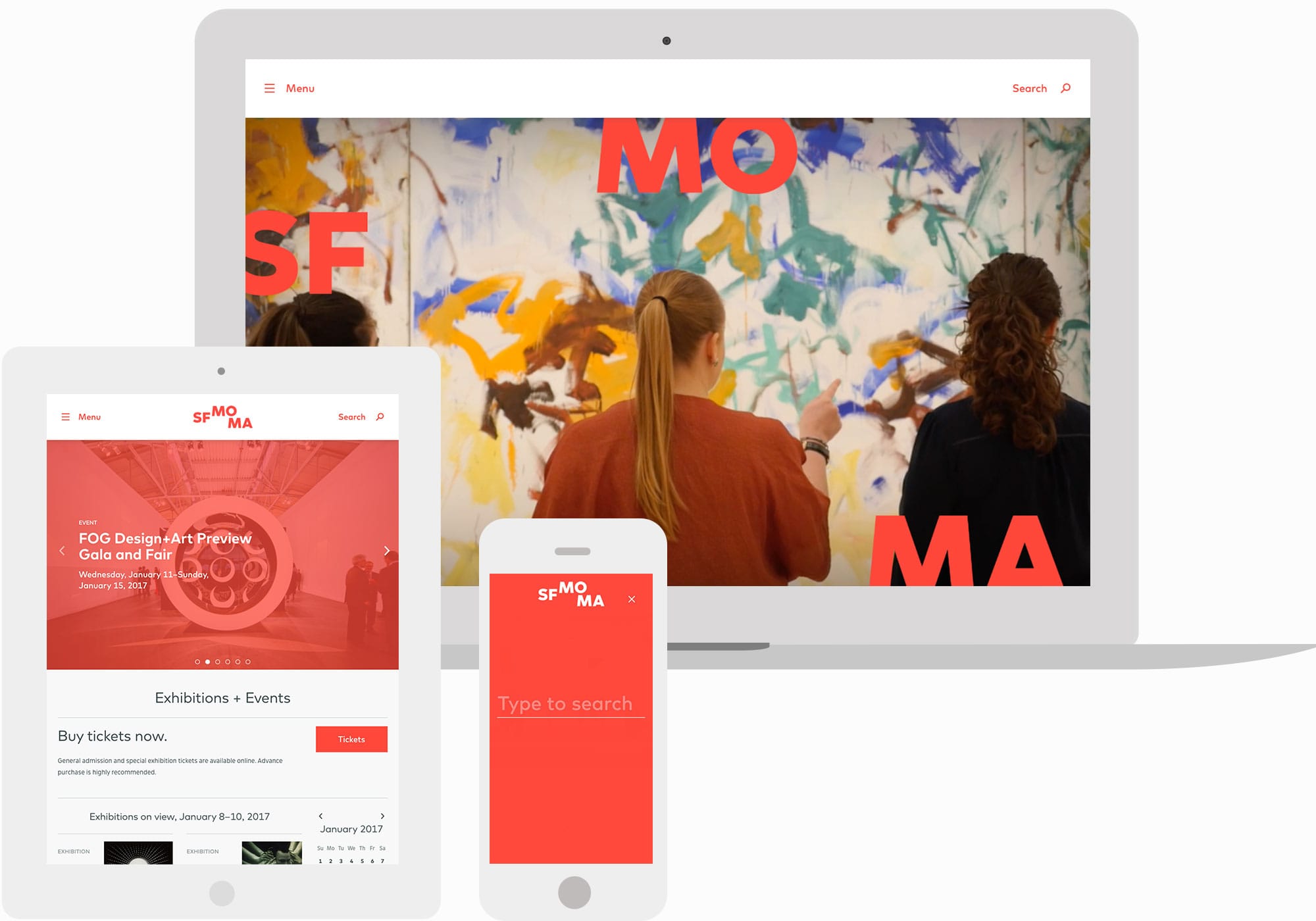 San Francisco Museum of Modern Art
Backend CMS development
Website design
Frontend build
The San Francisco Museum of Modern Art launched a new website to coincide with their major renovation in 2016. The site – built on GLAMkit 2 – combines an innovative design with deep systems integration of ticketing, membership and the online shop.
Visit Website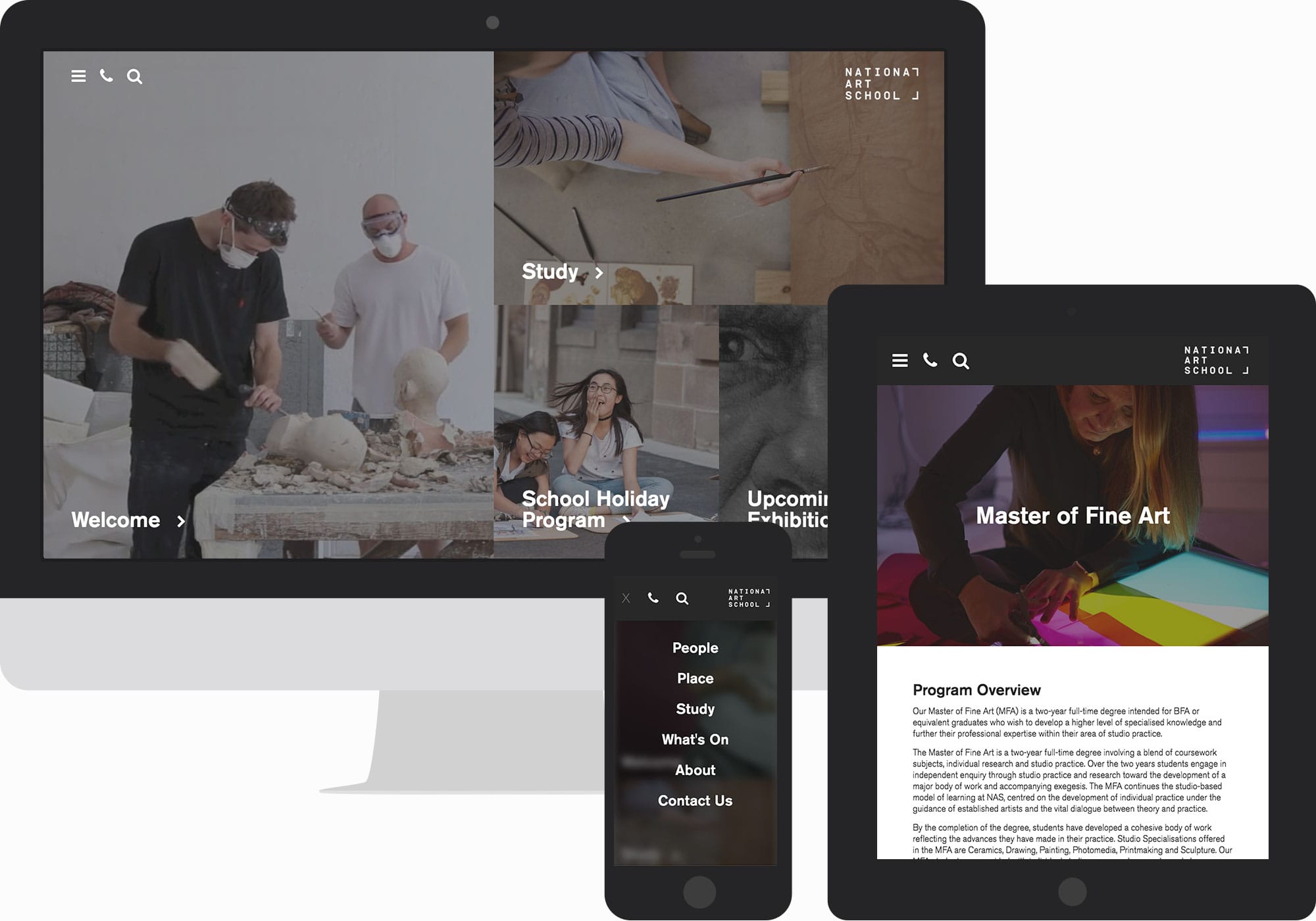 National Art School
2016 - 2018
Backend CMS development
Frontend build
Website design by Boccalatte
The prestigious National Art School has inspired and shaped generations of Australian artists. This new website celebrates its unique place at the Old Darlinghurst Gaol at Taylor Square, attracts new students to this impressive institution, and introduces an intuitive self-service short courses enrolment.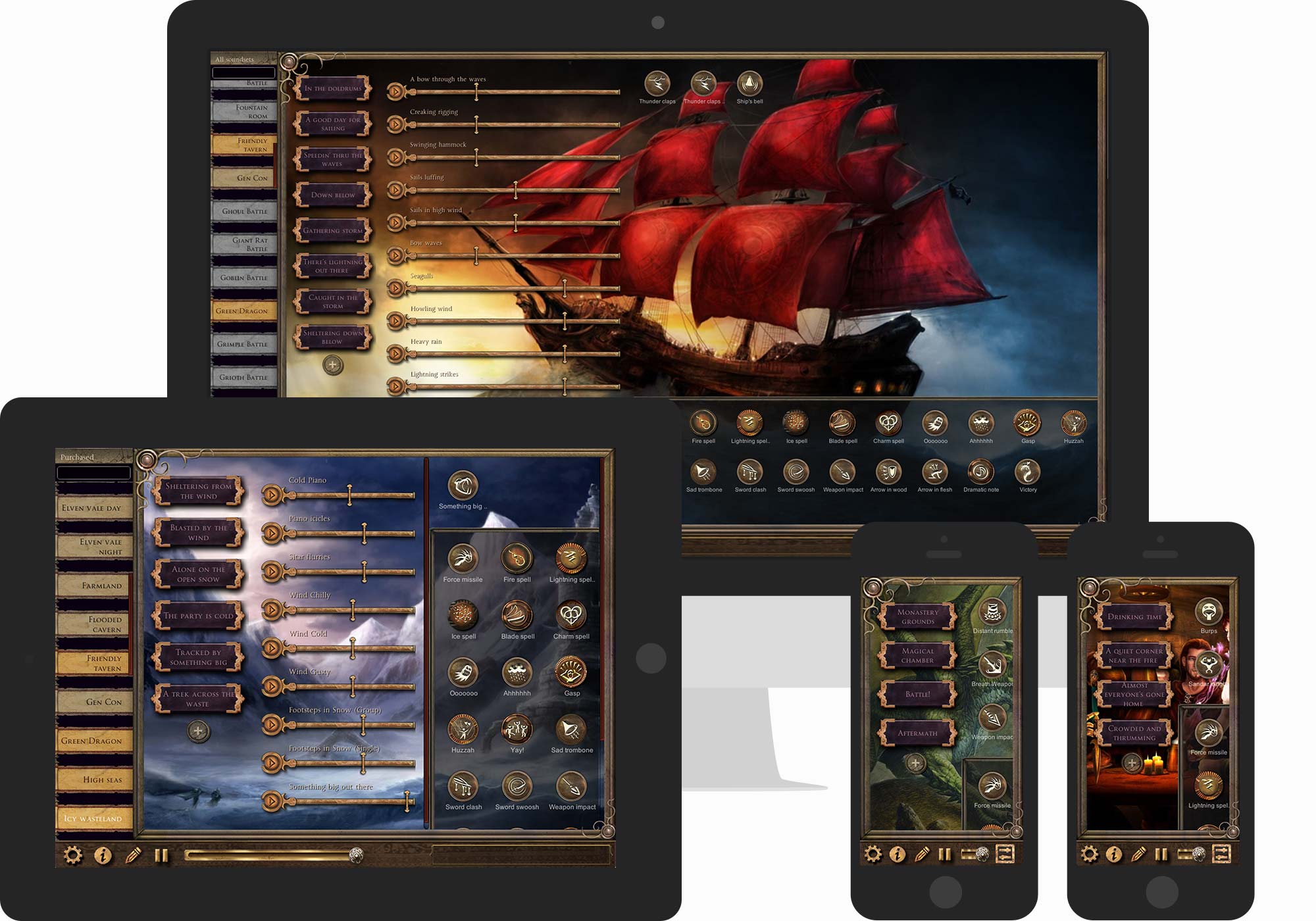 Syrinscape
UX/UI Design
Software design and development
Syrinscape is a revolutionary sound design app that adds evocative ambient background sound and a movie-like soundtrack to a tabletop gaming experience. It's the brainchild of Benjamin Loomes, a professional composer and musician.
Visit Website
Client List
Over the past 8 years we have built around 75 websites, apps and software projects for more than 50 clients. Here is a selection:
—
Arts Council of NSW (now Create NSW)
Art Gallery of New South Wales
Art Gallery of South Australia
Arts on Tour
Australian Broadcasting Corporation
Australian Centre for the Moving Image
Australian Design Centre
Bundanon Trust
Calibr8or
Choice
Curious Works
Historic Houses Trust (now Sydney Living Museums)
International Watch Company
Ministry of Sound Australia (now TMRW Music)
Moriah Foundation
Museums & Galleries of New South Wales
Museum of Contemporary Art Australia
National Art School
National Association for the Visual Arts
National Film & Sound Archive of Australia
NSW Health
NSW Office of Environment and Heritage
Professionals Australia
Red Room Poetry
Royal Flying Doctor Service
San Francisco Museum of Modern Art
Scots College
Smart Approved WaterMark
State Library of NSW
Sydney Craft Week
Syrinscape
University of NSW Press
University of Technology Sydney
---
Contact
We'd love to hear more about you and your project – What's got you fired up about it? What do you really dream of achieving?
Send Tim and Alastair an email to
studio[at]interaction.net.au
We can't wait to hear what you're up to.