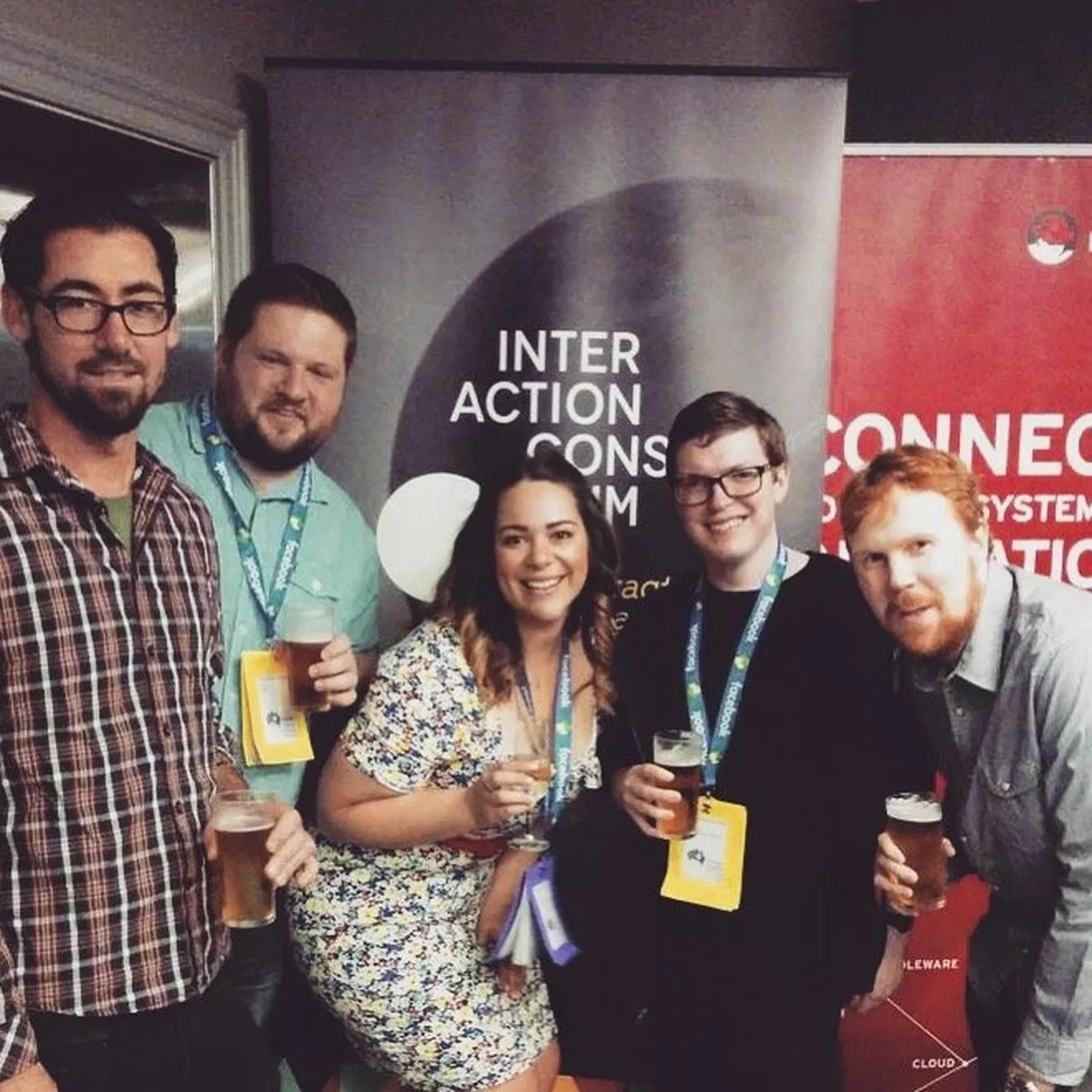 PyconAU 2015
Written by Pili Mitchell
Published on 14 August 2015
About the author
Pili is a content writer and strategist. Her background in corporate advisory, coupled with a degree in English Literature puts her in the unique position of being able to understand what's important to businesses and to communicate those messages to audiences and customers.
Visit profile
Last month we packed our bags, tied a bow on our office python, Pyklet, and headed to sunny Brisbane for PyConAU, of which IC was a sponsor.
We kicked off with beer, natch, hosting drinks at the Stock Exchange. We're not sure who they thought we were, but we ended up in a sort of VIP fishbowl room presiding over the rest of the bar. We were deemed so important that one poor guy almost got kicked out for waving at us.
We imagine the bouncer said something like, "PUNY MORTAL, how dare you wave your filthy paw at our honourable guests?" It was probably something more like, "Dude, quit bugging the other patrons or imma kick you out." Either way, we're benevolent types and allowed him to stay.
The Money, Money, Money talk by Russ Keith-Magee, President of the Django Software Foundation, was one of our favourite presentations. He covered a topic that's front of mind for a lot of open source developers: we know free software is better for everyone, but we can't code when we're living under bridges like common trolls, evicted from our homes because we can't pay the bills.
He asked, "is there a way to pay the piper? Or is open source doomed to eke out an existence at the edges of a 'real job'?"
Like any weighty question, the answer doesn't come quickly or easily, but we've got to keep talking about it.
Another excellent talk was Graeme Cross' Python for less than $7. He showed us how to set up a wifi-enabled microcontroller - about the size of a $1 coin - with Python 3.4 to create the small but mighty MicroPython. He predicted the live demo might fail, and fail it did, but the device is bleeding edge, and as a concept to work on, it's pretty incredible, not to mention its potential in terms of the internet of things.
The last morning of the conference found us and a lot of other lanyard-wearing conference goers desperately (and fruitlessly) searching for breakfast and coffee before the conference started. Word to the wise: never come between a developer and his or her source of caffeine.
The Sunday keynote, Consequences of an Insightful Algorithm by Carina C. Zona, covered the responsibilities we as developers have to treat people with care and respect when we've collected substantial data about them. She gave some great use cases of how algorithms have made a negative impact on society because people have used the data for evil, rather than good.
It's nothing we didn't already know, but it's important to remember to be an empathetic coder; people are more than just rows in a database.
Next year, we'd love to see some talks about frontend and how it relates to Django/Python. An exclusive focus on the backend, is just that: exclusive, and we felt it might discourage some - like digital agencies - from coming to the conference. It's important to see how things translate to the real world, and how certain features of Django/Python can be used for client websites.
Matt also called for more live demos because "they're exciting to watch, and even if they have hiccups it's great to see the progress people have made on projects."
Thanks for a great conference, and we'll see you next year!
End of article.