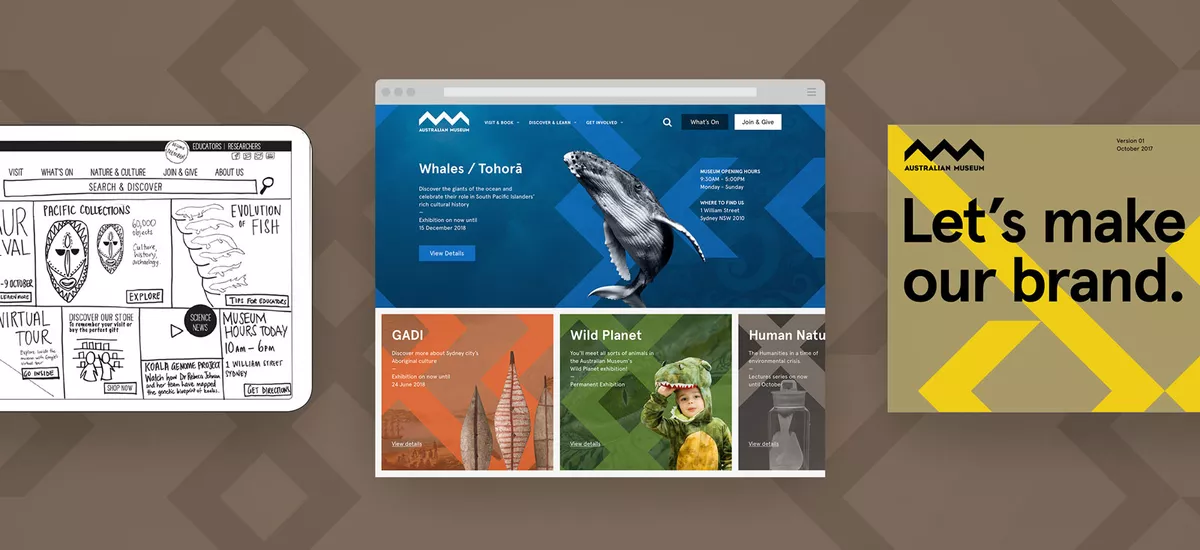 Digital brand extension: Designing the Australian Museum website
Written by Fabian McDonald
Published on 2 November 2022 in the category Museums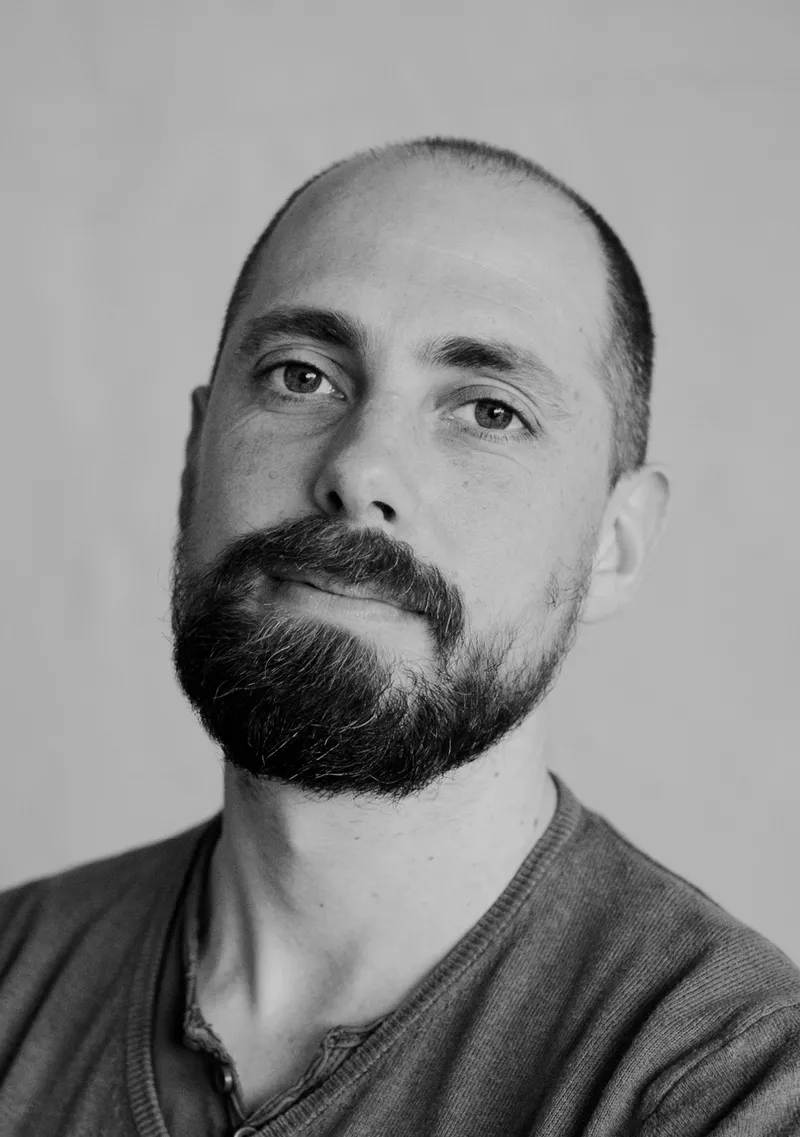 About the author
Fabian is a multi-disciplinary graphic designer with 15+ years experience. He is currently a Principal at the Interaction Consortium.
Visit profile
As part of our work on rebuilding the Australian Museum website a key aspect was developing and implementing the visual design. And like any design project, the Australian Museum website had its own set of unique challenges worth discussing.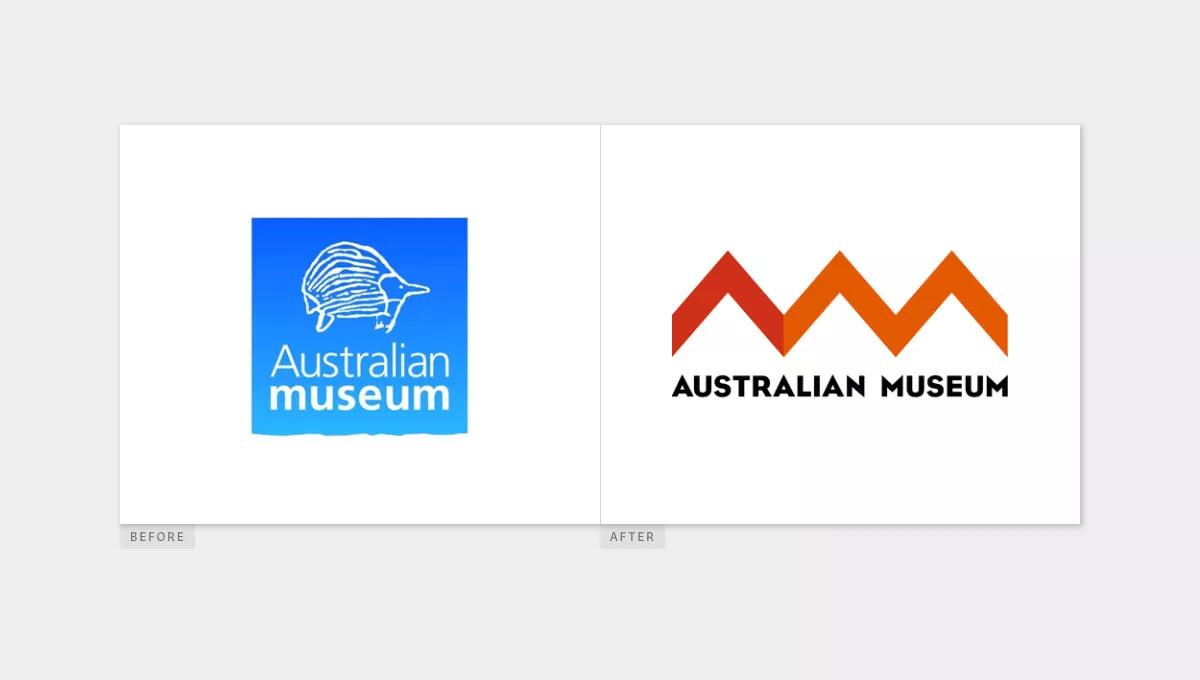 It also involved a major overhaul of the website, driven by the digital team led by Megan Lawrence together with external collaborators Elle Geraghty for the information architecture, Meld Studios for the audience research, and Boomworks for the user experience prototyping and testing.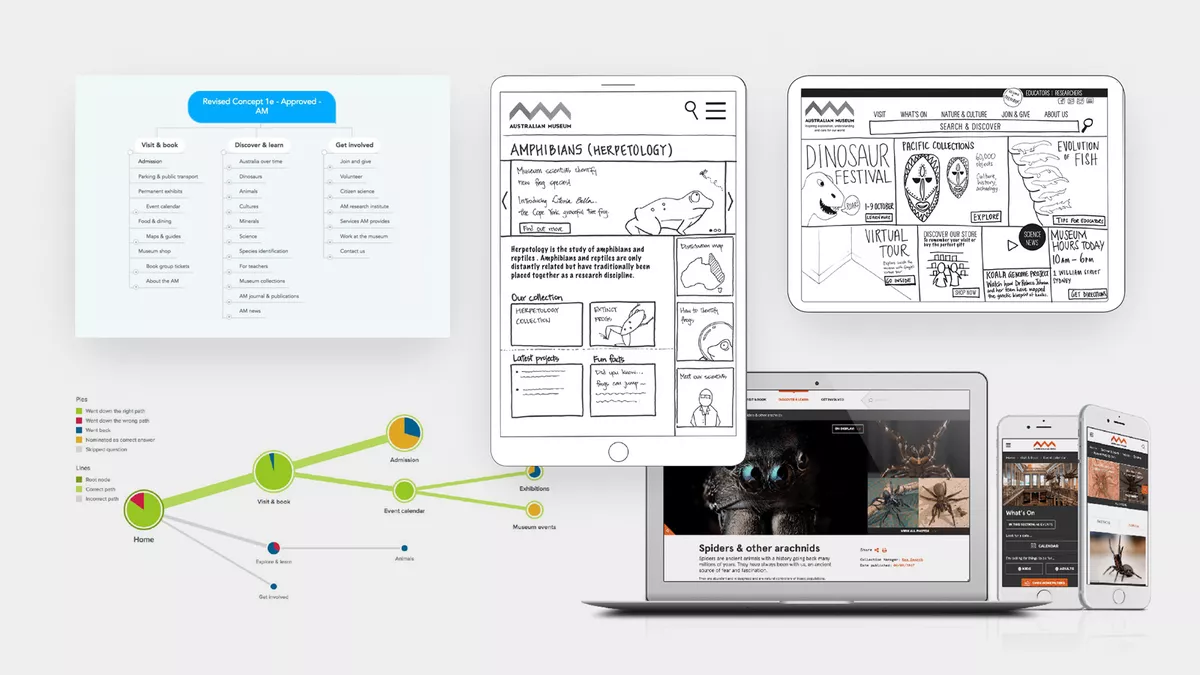 Challenges
Of course, no design project is ever straightforward, and this was no exception. There were a few key issues with the Australian Museum brand that we needed to address when developing a design concept, namely:
The brand was still relatively new and undergoing a process of discovery, experimentation and refinement, particularly in the digital space.
While a fresh, new design was required, there was also a large amount of content that needed to be migrated over and be taken into consideration.
Multiple departments, each with their own requirements, expectations and levels of resourcing, would be using the CMS to build pages on the website. Any design needed to be flexible and robust enough to accommodate them all.
Our approach
We first wanted to gauge how adventurous the Australian Museum wanted to be with the digital implementation of the design. With so many internal stakeholders it was important to make sure everyone felt involved in the creative process, and that even if the eventual direction taken was not their preferred, they still knew their voice had been heard.
Three initial design concepts were produced, each with an increasing level of brand application and innovation, ranging from limited branding within a fairly standard layout, all the way to heavily branded within an unconventional layout.
As is often the case, the more traditional design was discarded as being, well, too "traditional". At the other end of the scale, while it did receive positive feedback, the unconventional concept raised concerns for being too, well, "unconventional".
So, like Goldilocks, the stakeholders finally opted for a "middle-of-the-road" approach, tending slightly more towards the unconventional. However, the key concern of tying the design too closely to the brand was raised several times. Fortunately we had already anticipated this and were able to mitigate the concerns by taking the following approach:
Using the Australian Museum brand as a framing device without directly influencing the page layout.
Ensuring that actual content remains brand neutral beyond the choice of typeface and limited colour selection.
Where applicable, enabling the brand to be applied in a flexible manner, from heavy with a strong impact, all the way to subtle or even none at all.
By following these three principles we could ensure that the brand would not be "baked into" the layout or content, and would be easy to switch off.
This also reflected our approach as to how we believe the Australian Museum should be communicating to its audience. It is often the case with arts and cultural organisations that they take a step back in terms of presentational style: it's not their job to be unconventional, that's the job of the artists and performers they are showcasing. The content itself pushes boundaries and challenges preconceptions, while the website design provides a neutral container and gets out of the way.
With the Australian Museum we felt that this relationship is inverted: as a natural history museum, the content is often seen as serious and academic, perhaps limiting its engagement with the public and not doing justice to the groundbreaking nature of the scientific work. In this case, it is the Australian Museum's job to be unconventional in how it presents the content.
Digital branding: our steps to implementation
When it came to implementing the above approach, all page types identified in the research phase fell into two broad design categories: high-level and low-level.
Pages such as fact sheets, information pages, events, blog posts, and staff profiles often represented the final destination for a user's search: the content itself needed to take centre stage with as little distraction as possible. As such, these pages would utilise a "low-level" design approach, employing a subtle use of branding.
This involved using a common design theme composed of the AM corporate colours and the weave pattern applied to the page background. This would be positioned randomly, which provided variance from one page to another while maintaining a consistent visual thread.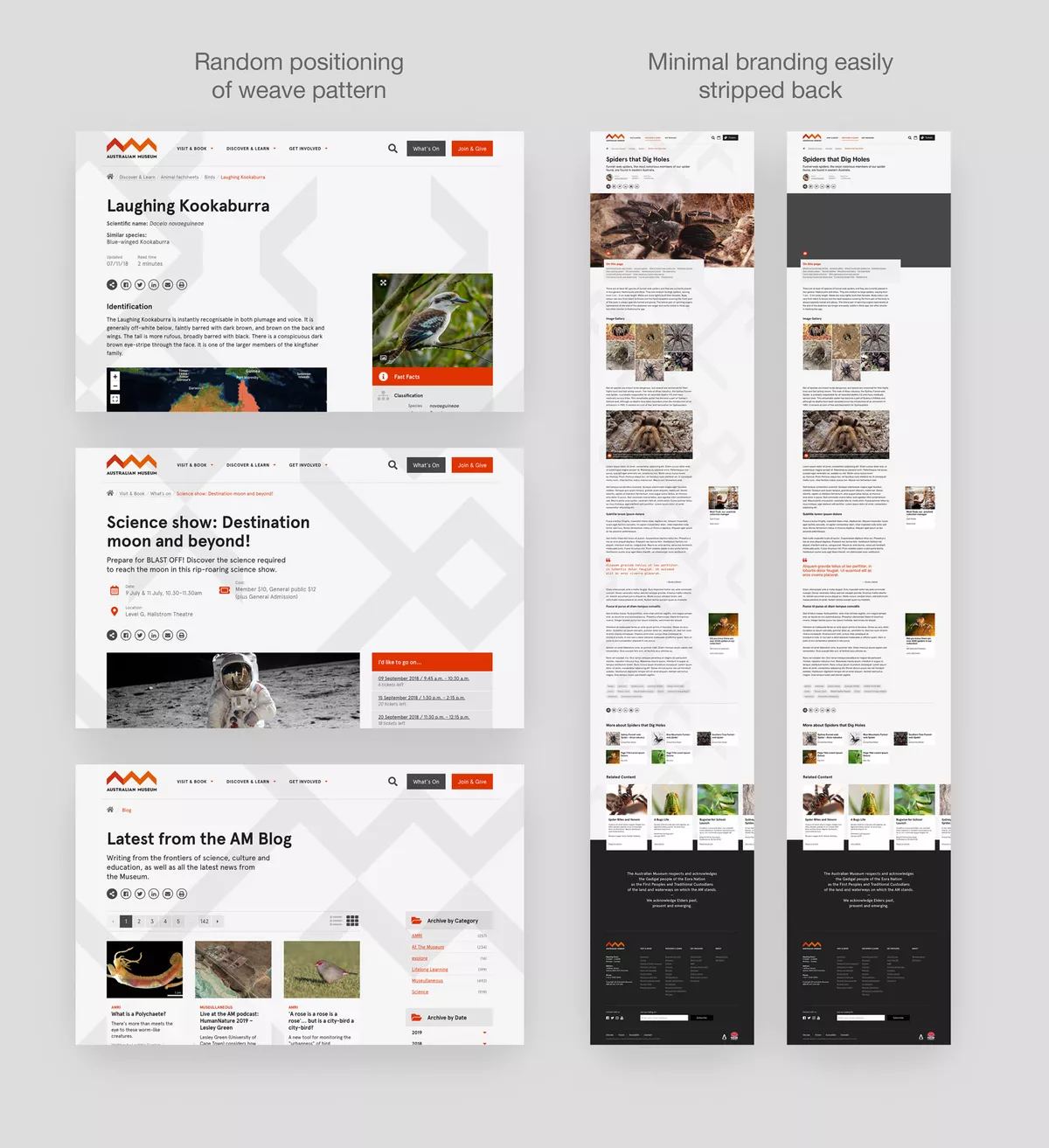 Removing the branding from these pages is simply a matter of changing a typeface, a colour and removing a background image.
When it came to "high-level" page designs – landing pages, exhibitions, departments, collection areas – there was scope to be more adventurous. By their very nature, these pages needed to have more impact and engagement with the viewer since they acted as gateways for further exploration into the website.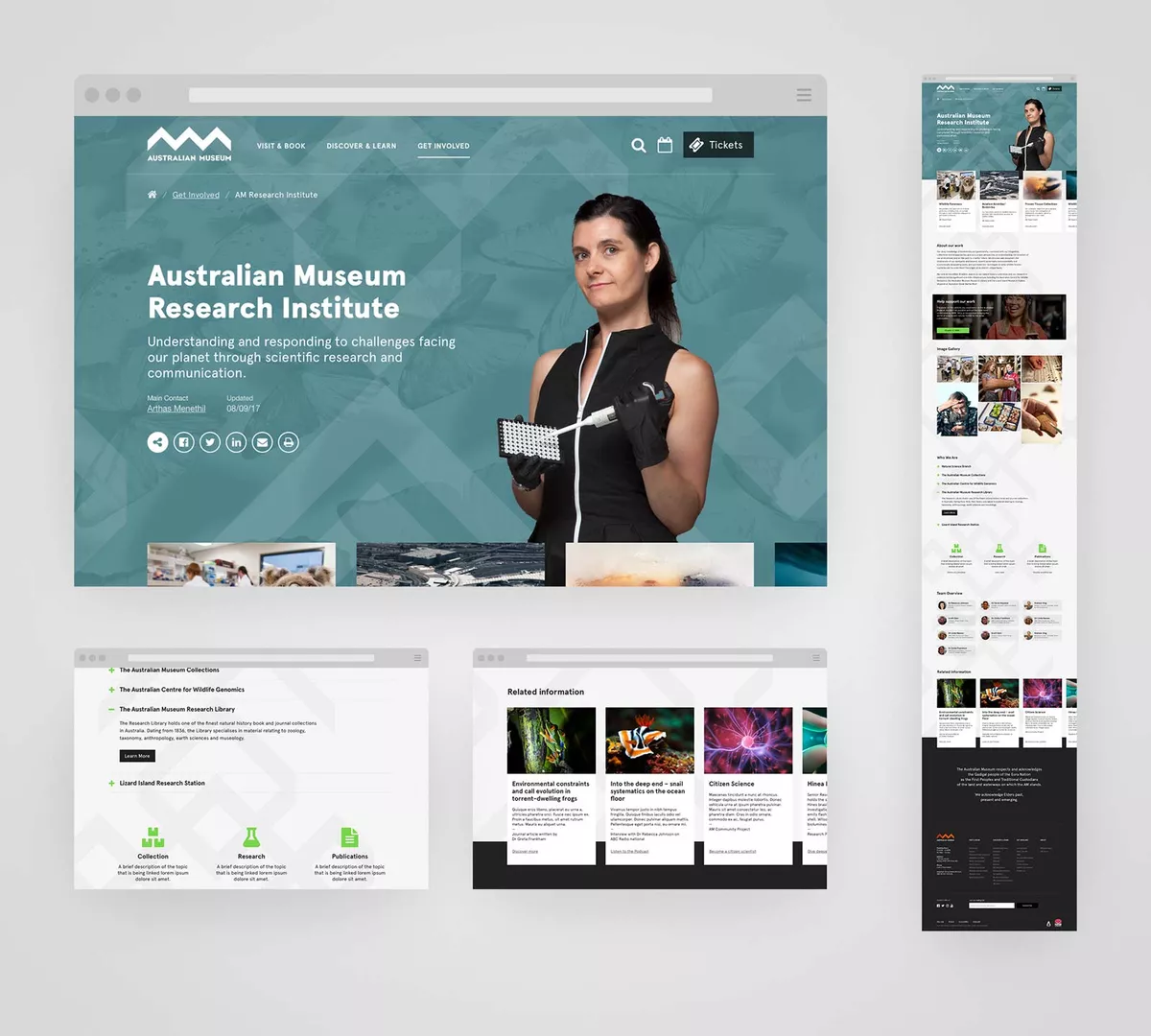 As such, we wanted the possibility to express the Australian Museum brand to its full extent, guns blazing and all! However, we needed to ensure flexibility in how this was done to ensure that content producers had full control over the design and level of branding.
We achieved this by building a series of options for applying styles to a page, all based on the Australian Museum brand guidelines for creating key visuals. These styling options include:

Selecting a background colour
Selecting a colour for the weave pattern and an accent colour that complements/contrasts with the background colour
Choosing a background image and adjusting the opacity
Choosing a separate object image to sit above the background and weave pattern
Adjusting the position and opacity of the weave pattern in a way that plays well with both the background and object images
Combining these options allows for literally an infinite range of designs, each one unique but still tied together via common design elements. Content editors can choose to be as bold or as subtle as the situation requires when it comes to branding, even to the point of having no branding at all.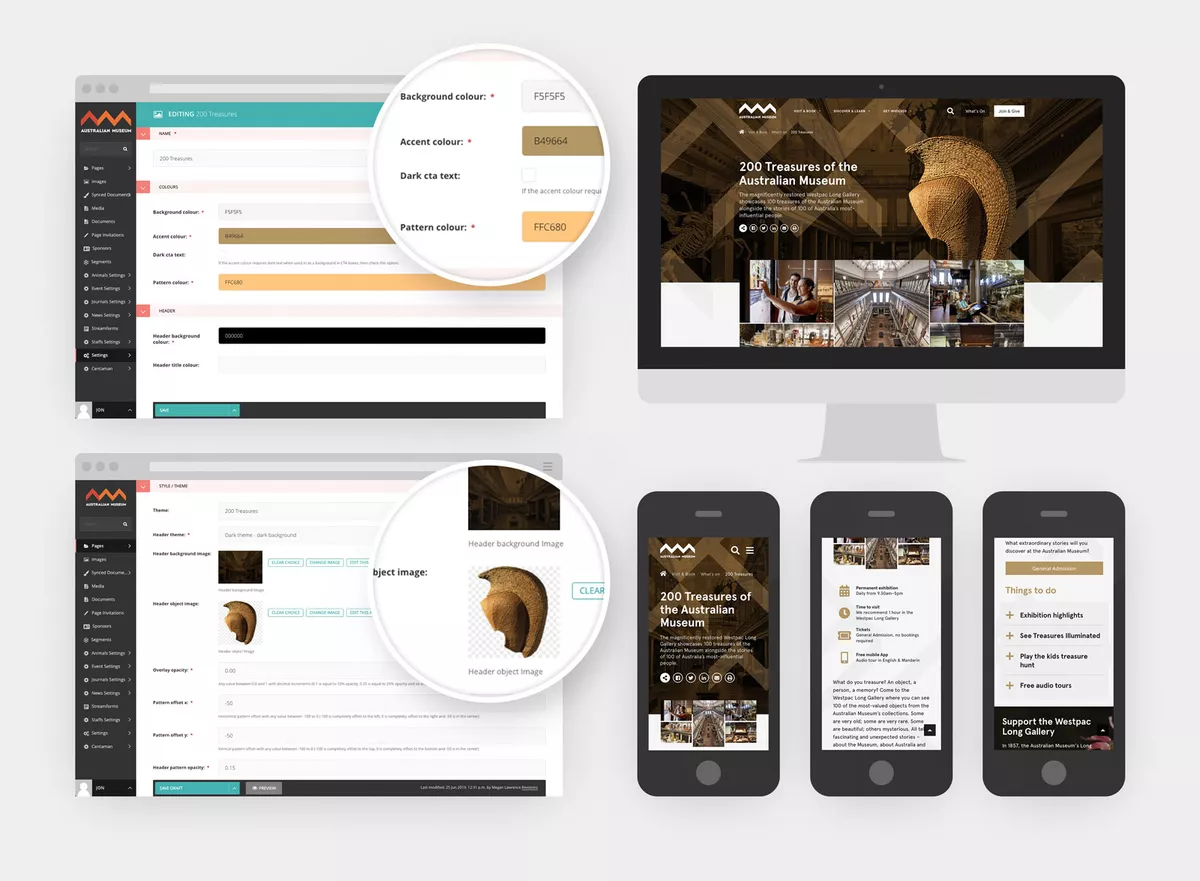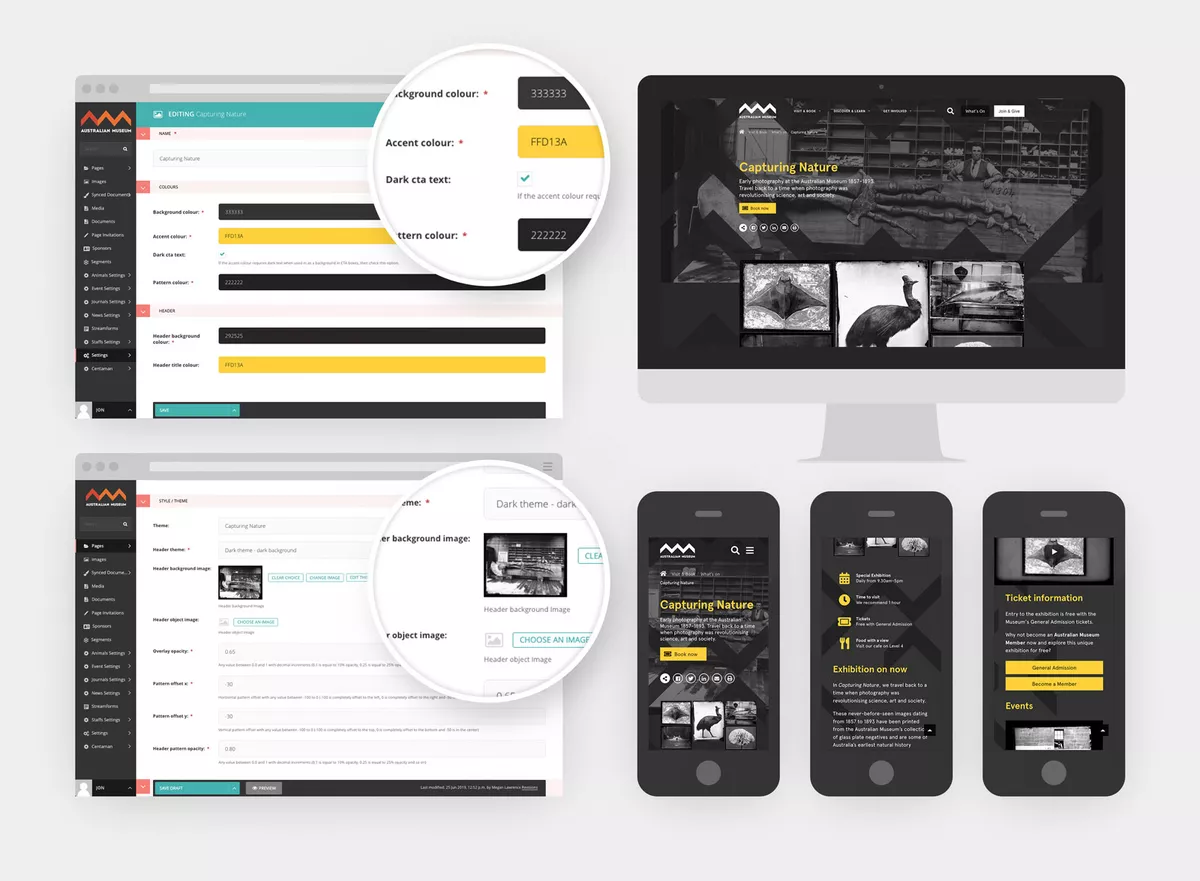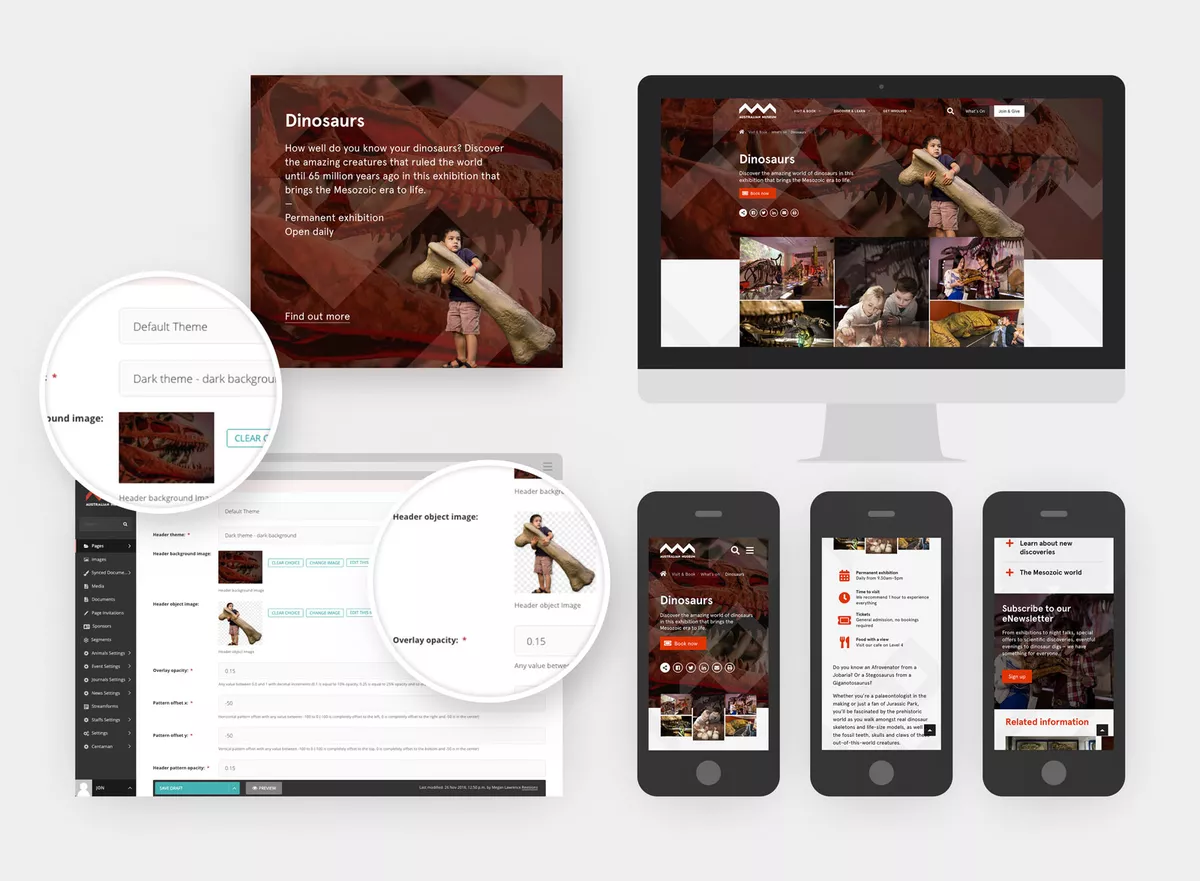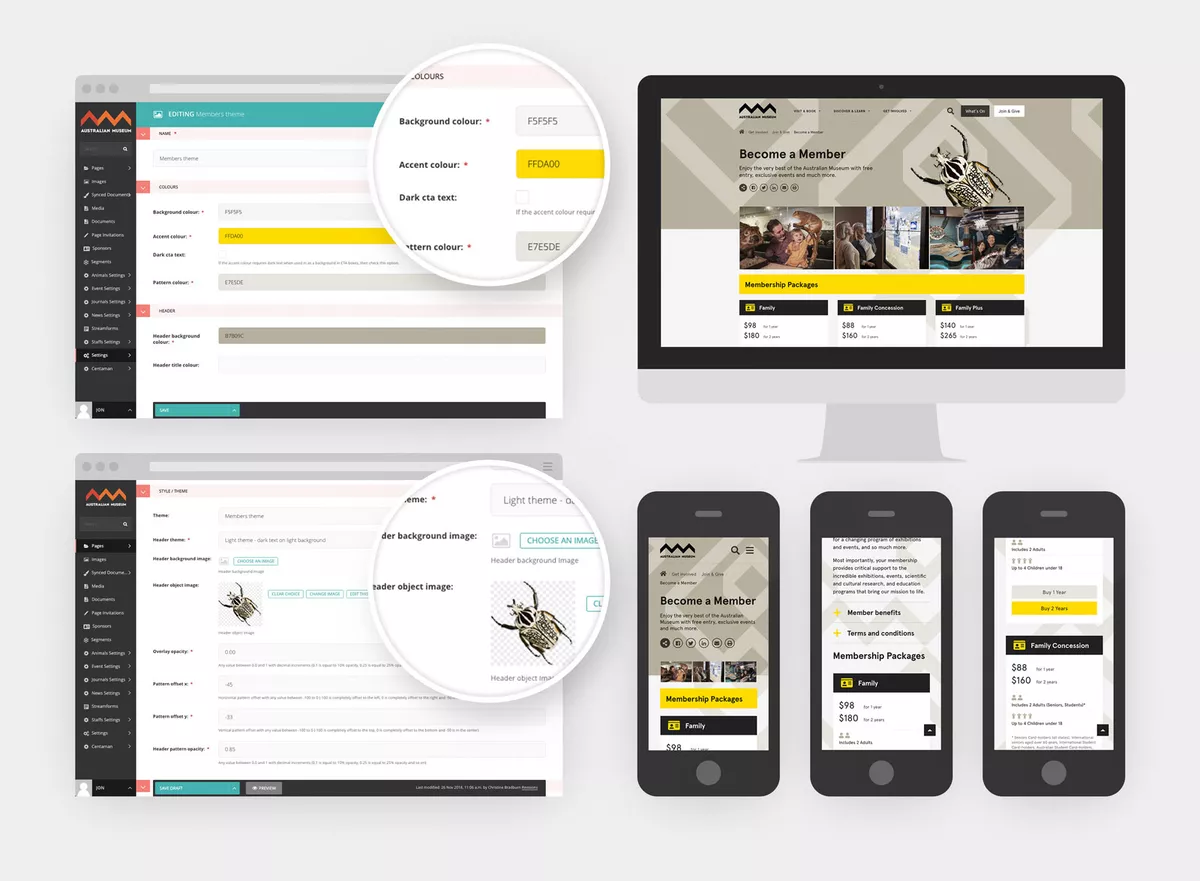 The results
All of this combines to produce a platform more akin to a piece of design software as opposed to a standard content management system (CMS) where you just fill in a template with content. Having total control over how strongly the brand is applied while decoupling it from the content and layout ensures that any trepidation regarding the evolving Australian Museum brand is allayed. A simple demonstration of how easy it is to "switch off" the brand was enough to convince all stakeholders that this approach is workable.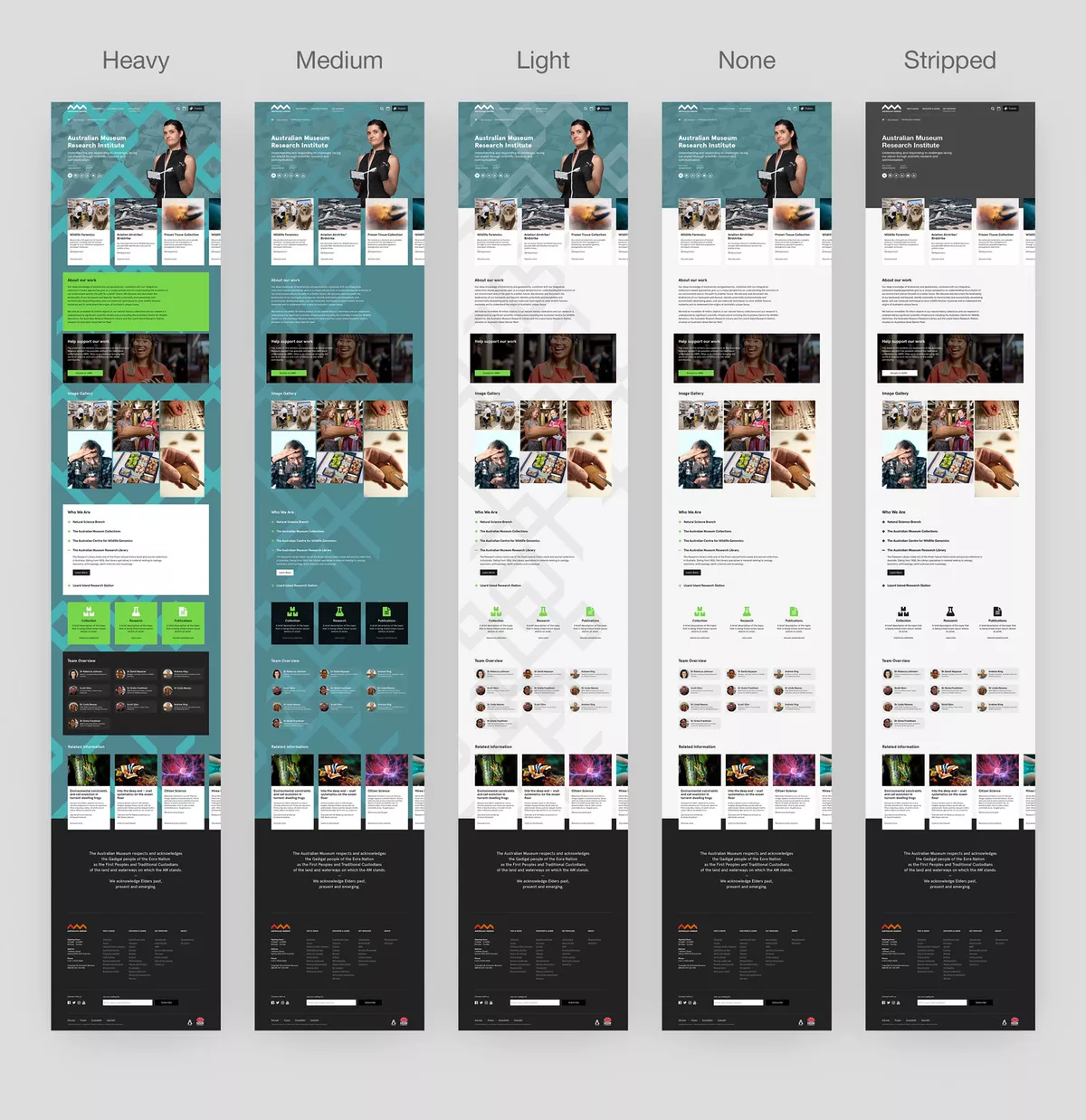 Of course, such a complex system does not come without its teething problems, and "with great power comes great responsibility". But overall the new design and CMS have been a great success and have taken the way the Australian Museum manages its online presence to an exponentially higher level.
As we further our relationship with the Australian Museum and the website continues to evolve, we will be writing more about design and the challenges and solutions we encounter.
End of article.