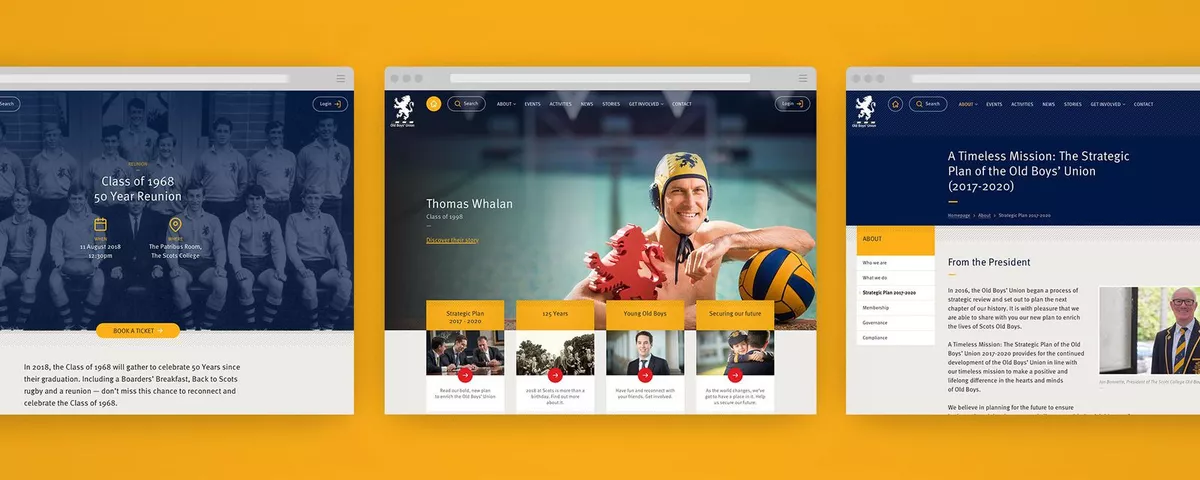 Launching: The Scots College Old Boys' Union
Written by Fabian McDonald
Published on 20 March 2018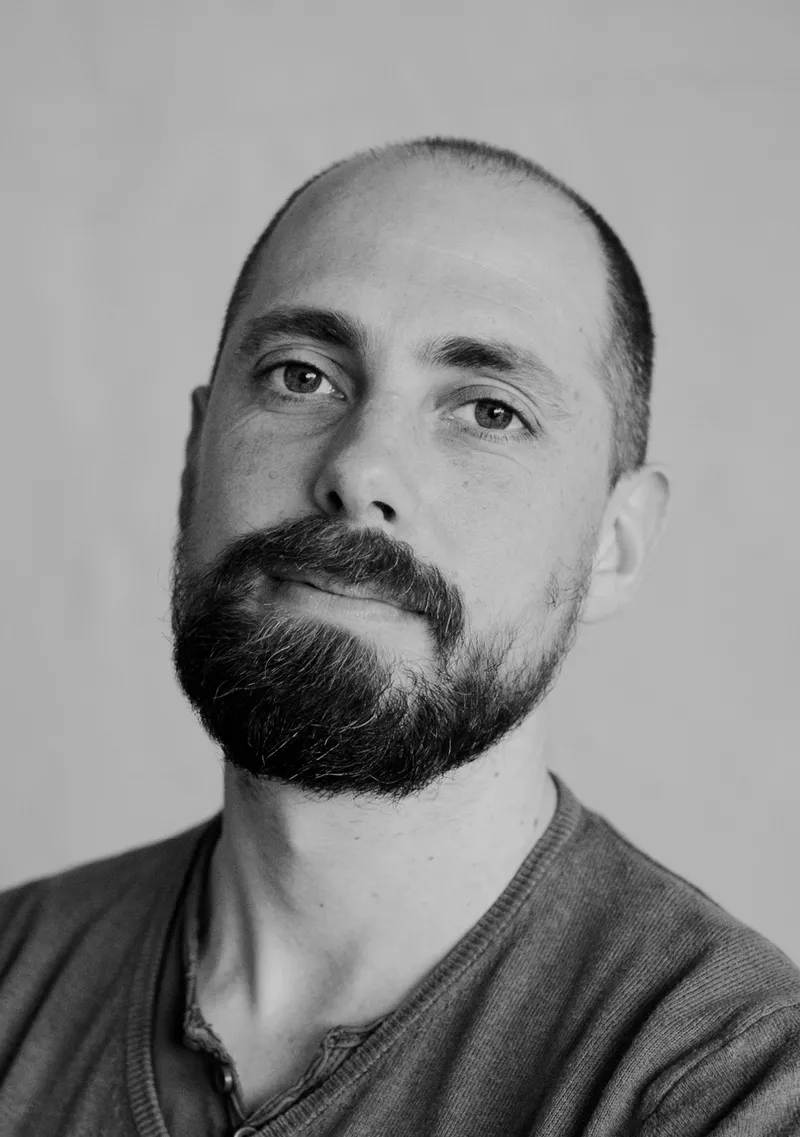 About the author
Fabian is a multi-disciplinary graphic designer with 15+ years experience. He is currently a Principal at the Interaction Consortium.
Visit profile
At the IC we like to pride ourselves on being good "brand guardians": we want clients to know that they can trust us with an engaging and beautiful design of their website and maintain consistency with their existing visual identity, one that has sometimes been more than a hundred years in the making.
And so it was with the website for The Scots College Old Boys' Union, an organisation for the alumni of one of Sydney's oldest private schools for boys, The Scots College.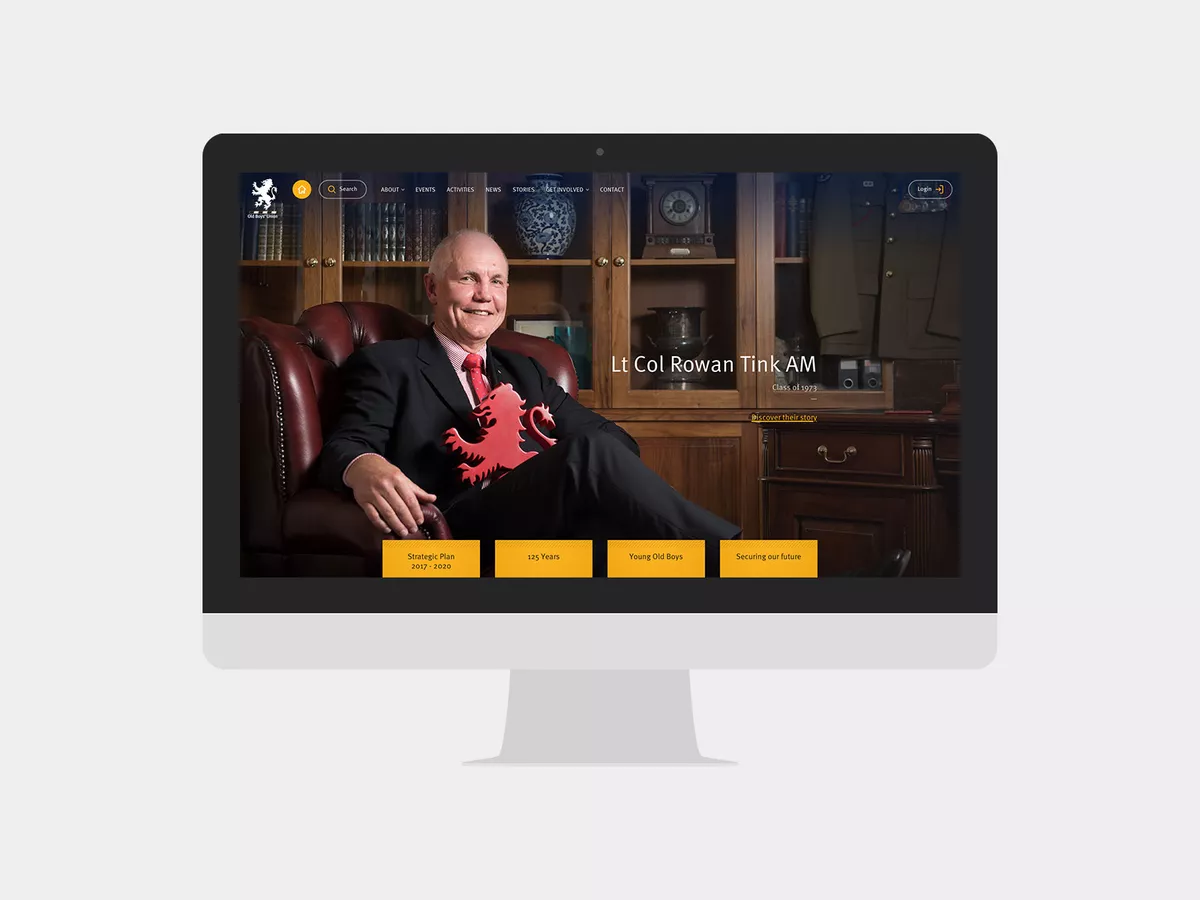 With a history spanning 125 years, The Scots College has a unique and rich tradition, one that they are understandably keen to preserve. At the same time – being an educational institution dedicated to preparing young boys for the rigours of modern life – they also seek to be forward thinking and dynamic. These core values are communicated through a well-curated brand identity, with the backing of an internal marketing and design team.
Which is why when we were approached to redesign the Old Boys' Union website to attract and engage a new generation, we were given a very clear objective: remain true to the Scots tradition and identity, with brand consistency a crucial must!
Fortunately for us, the college takes the management of its brand seriously and provided us with a thorough guideline manual and extensive visual assets, including a series of beautiful professional photos. The rest was up to us.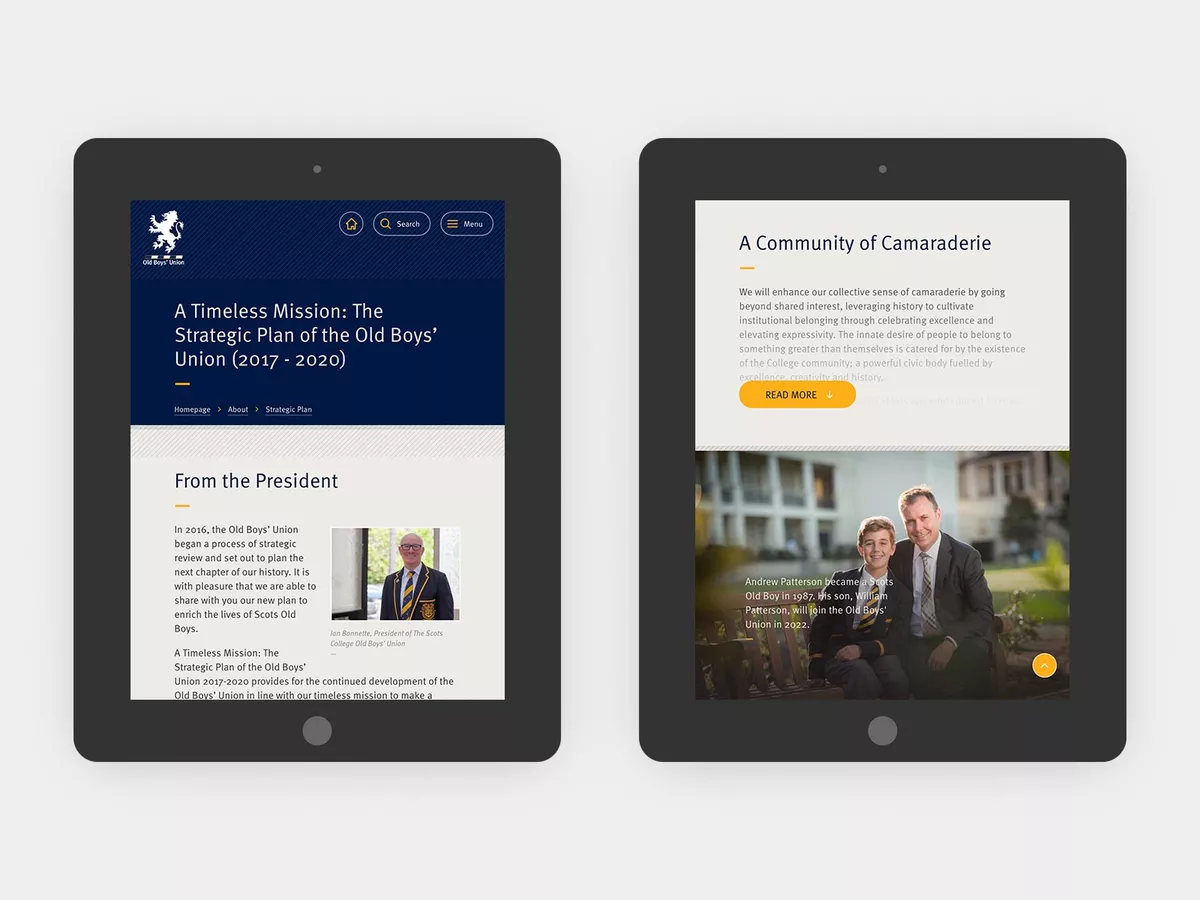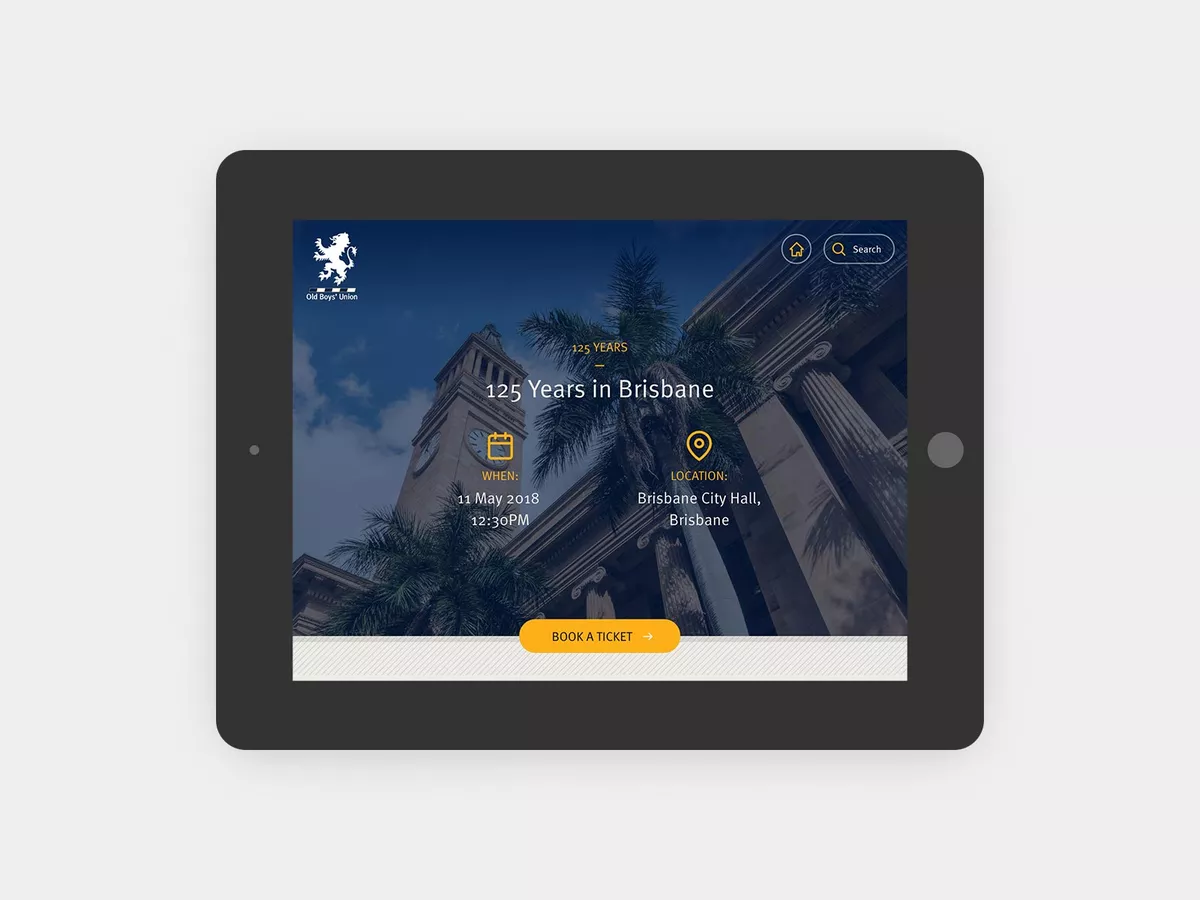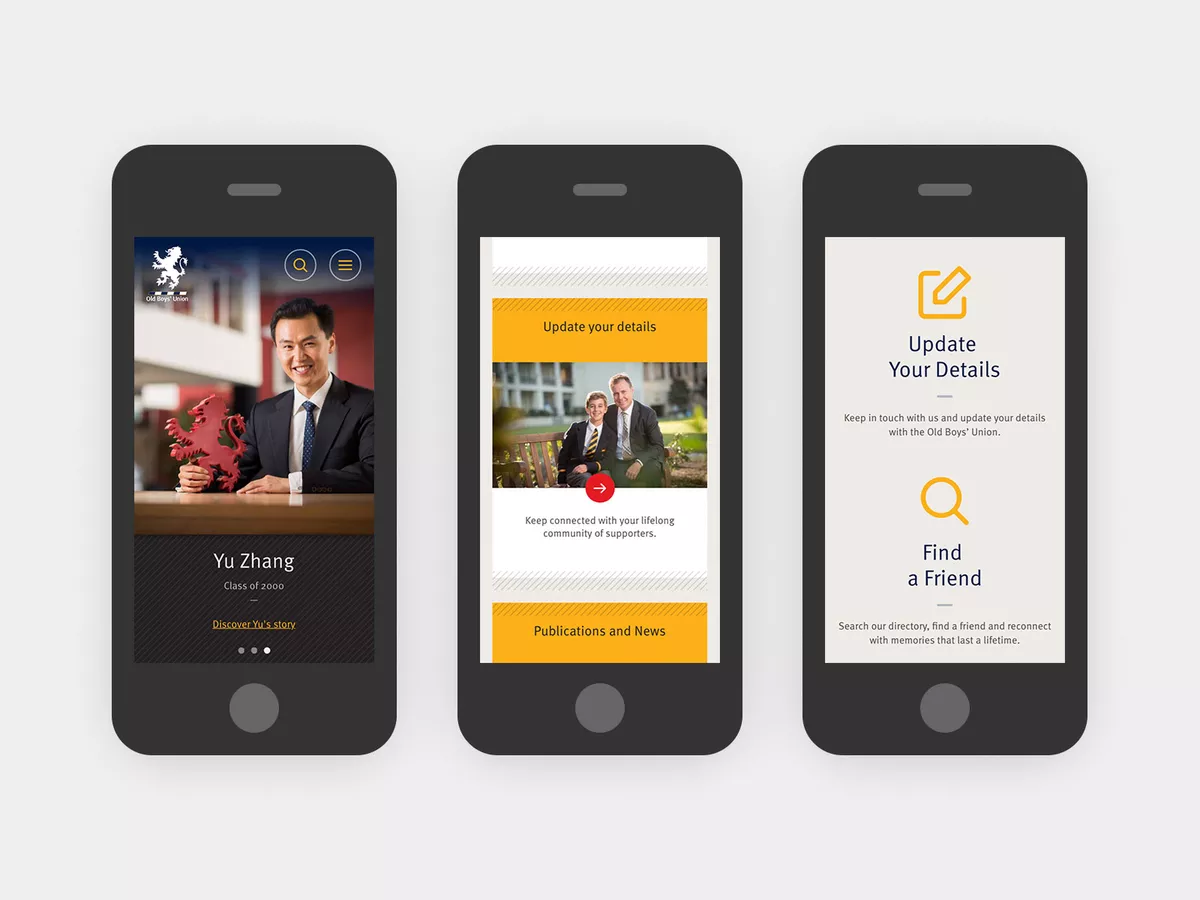 The results is a website that is unmistakably "Scots" in style. The bold use of the college's brand colours, subtle patterns that recall the school's uniform and the prominent display of key photography, combine to transmit to the visitor of the site all the emotions and traditions of The Scots College.
And while we created a new web experience more in line with the expectations of a younger generation, we didn't get too carried away and alienate the older generation of users less likely to be well-versed in the ways of the internet.
The project is still a work-in-progress. For this initial launch, standard informational pages and an events module were created in the custom Content Management System. Coming soon in mid 2018, a private members area with more interactive features. Stay tuned!
Working with the IC was a pleasure; the team was as professional and efficient as they were innovative and capable. The team took a large brief, worked within our budget, and delivered an outstanding result. If you're hoping to build an immersive digital experience in 2018; go to the IC and look no further.
End of article.